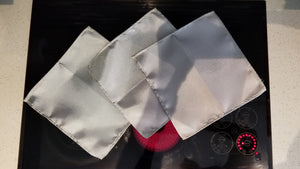 LoMi Version 2.0 (V.2S4) — individual burner size 12"x12" (Bundle of 4)
Sale price Price $60.00 Regular price Unit price / per
LoMi 2.0
STRONGER! 80% more resistant abrasion
Less prone to unravelling
No washing needed, use it till it's wrecked!
Various sizes for individual burner use
Sleek silver finish
Two sizes Large size 23.5"x 31.5" and individual burner size 12"x12"
Same great price
Imagine cooking without worrying about scraping burnt food off the ceramic cooktop. Without fear of scratching the glass your cooktop is made of and without the mess at the end of cooking. Take care of your expensive electrical range. LoMi fits all ceramic cooktops, Samsung, Frigidair, KitchenAid and any other brand.
RETURNS AND EXCHANGES: We are confident you will love our product and we take pride in ensuring its quality prior to delivering it to our customers. If there are any visible defects with our product, please return it to us unused, in its original packaging within 30 days and we will replace it for you.
LIMITATIONS: Not intended for commercial use. Lifespan of the mat is dependant on how often it is used and how closely the usage instructions are followed. Mat is not waterproof. Spills with watery content will pass through. Avoid letting organic matter to build up and scorch on the mat. Leaving organic material to build up on the mat will cause it to burn and/or smoke. After use place the mat on a flat surface and use a sponge to wash gently with warm soapy water.