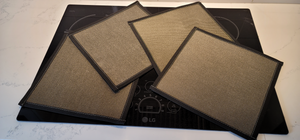 LoMi Version 5.0 (V.5S4) — individual burner size 13"x13" (Bundle of 4)
Sale price Price $81.99 Regular price Unit price / per
Is the newest mat developed by LoMi
Key points of ver.5.0 :
- dark grey color
- totally dishwasher safe
- self marking of the hot spot
- last longer than previous versions we add very thin stainless steel wires in the fabric for      strength.
- slightly larger than previous versions ,we added 1 inch more.
- improved edges with a new bold look
- higher temperature resistance than ver.2.0 or 3.0   1300 F !!
- Free shipping North America